A black bear had been relocated to the wild after being spotted behind the Danbury Firestation. Firefighters noticed the bear on Monday morning while doing a routine equipment check and clean up. The bear had found a spot in a tree near the firestation and did not want to leave.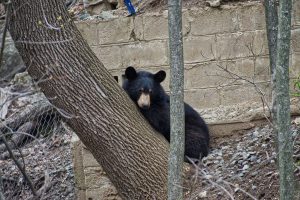 EnCon police were contacted to safely remove the bear from the parking lot and relocate him back into the wild. The bear was sedated while DEEP officials chipped, tagged, and took the bears measurements. According to DEEP the bear is around 15 months old and weighs 135 pounds. 
Mayor Mark Boughton later named the bear "Dan Berry".