On Monday, Elon Musk confirmed that he and Grimes had their baby boy. Many people were curious to hear the baby's name. Musk announced on Twitter the baby's name, X Æ A-12 Musk. This left people confused of the reason behind the name and its pronunciation, which sparked many comments on social media. Grimes took to Instagram to reveal the name's pronunciation after a few days of reading the many comments about her baby's name. Grimes explained "It's just X, like the letter X. Then A.I. Like how you said the letter A then I".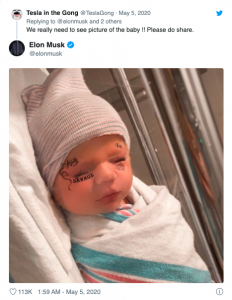 On a podcast, Musk revealed the actual pronunciation of the name, which he claims to be "it's just X, the letter X. And then, the Æ is, like, pronounced 'Ash'… and then, A-12". He also shared that Grimes created the majority of the name with Musk contributing the A-12 portion.
Grimes tweeted an explanation to why the baby was given this name.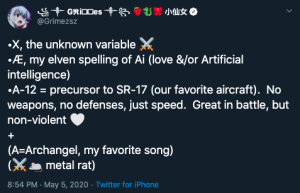 This is the couple's first child together. Grimes officially announced the pregnancy back in January in an Instagram post where she described the difficultly managing work and being pregnant. "I just didn't (really) understand what I was getting into. It's been good too, but it makes working a lot harder. Good at writing and having lots of wild ideas (though), but anything physical is hard", Grimes stated. The Canadian singer also shared that she faced complications early on in the pregnancy, which became better as she entered the second trimester.
Elon Musk has five other children from a previous marriage. He has twins, Griffin and Xavier, and triplets, Damian, Saxon and Kai.