When senior goalie David McKinnon went down with an injury during the second game of the season the Hawks called upon freshman goalie Jimmy Slayton to come in and fill the starting role. Since that moment, Jimmy has over 500 minutes in goal, he has faced the ball 62 times, and with that Jimmy has 15 saves and has let up only six goals. Slayton has not had much time to transition from high school to college soccer saying "it's a much higher pace, the levels higher, everyone's good, and it's just a lot harder to find a weakness in a team".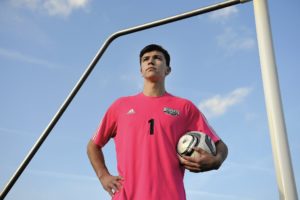 So far the Hawks have been playing a little bit below average with a 3-4-1 record but Jimmy seems like the bright spot in the team according to Coach Tom Poitras "hes come in and hes had a lot of confidence as a freshmen hes shown a lot of good soccer IQ, but he has also made a lot of really good decisions in goal". Coach understands how much confidence and trust you need to put in your goalie and he thinks that he has that trust and confidence in Jimmy "he has won the confidence of the coaches but more importantly he has won the confidence of his teammates in front of him". Coach Poitras also explained to us how Jimmy's successful play is also helping McKinnion and the other goalies work harder in practice to improve themselves.
During the recruiting process the Hawks coaching staff said what they really liked about Jimmy was his athleticism and explosiveness and they say that non of that has changed since he moved into the starting role. Goalie Coach Harambasic says that they are always working on fundamentals "Jimmy and all the goal keepers work on all aspects of the position and what is extremely important is the fundamentals also making sure week in and week out they make the saves that they are supposed to make".
Jimmy and the Hawks face in-state rival CCSU Tuesday September 27th. Come support the Hawks.