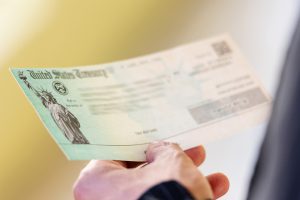 The Treasury Department has confirmed that the checks recently authorized by Congress will prominently feature the President's name on the front, sparking controversy over the possibility of this cosmetic change delaying their production. Representatives from the Treasury cite the opposite, claiming that distribution is ahead of schedule.
The checks, which stem from a coronavirus relief package passed by the House of Representatives towards the end of March, draw from $2 trillion meant to provide financial assistance to eligible Americans. At a base amount of $1,200 for independently claimed individuals (plus an additional $500 for qualifying dependents), the money is a direct cash payment intended to substitute for temporary losses of income.
President Trump's name on the front of the paper checks is critiqued as a thinly-veiled attempt to claim credit for cash, months before the 2020 Presidential Election in which he's running for a 2nd term.