As some states start considering easing restrictions, Jacksonville, Florida, led the charge by making the highly controversial decision to reopen beaches as of this past Friday. This "return to normalcy" comes at the behest of health official warnings that the fight against COVID-19 is not nearly over.
Described as a "soft reopening," beachgoers were encouraged to partake in solo recreational activities while following social distancing protocols. Additionally, hours were reduced to 6:00-11:00 AM and 5:00-8:00 PM, and activities like sunbathing was discouraged.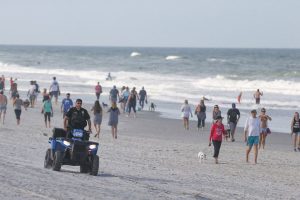 Lenny Curry, mayor of Jacksonville, asked those venturing out to "Please respect and follow these limitations. Stay within the guidelines for your safety as well as for the safety of your neighbors." Despite this, large crowds of people could be observed disregarding the safety precautions.
Florida Governor Ron DeSantis claims that since the disease is typically transmitted indoors, the outdoors are relatively safe enough to open to certain capacities. Jacksonville officials have stated they are willing to close the beaches if attendees are unable to follow the protocols.
At this time, there are no official statements on whether or not beaches will be further limited or closed all together again.