This past week ABC News reporter Will Reeve appeared on a "Good Morning America" segment without wearing pants. While practicing social distancing Reeve has been broadcasting his work from home. Unfortunately, the camera angle mistakenly revealed that he was only wearing half of his suit. Reeve later tweeted that, "I have ARRIVED. In the most hilariously mortifying way possible."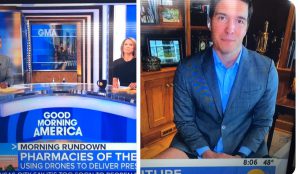 While this was a fairly harmless mistake, it does raise many questions regarding the world's change in values during these unprecedented times. With a great amount of employees shifting gears to working from home completely, many people have abandoned previous routines. Why should I have to dress up when my new office is my couch? Why should we be so strict with office hours when we have added concerns like children and pets to take care of during the work day? There is a debate to be had here, as some people have benefitted from keeping to their old routines while others have found more difficulties.
These ideas also seem to branch out to other areas of people's lives during quarantine. Exercise and time spent outside has increased across the board. People have been using their increase in free time to work on creative hobbies that they otherwise could not have. When the world returns to a familiar state, how many of these changes will the population decide to keep? While wearing pants in public will most likely remain a popular practice, it's hard to say that there will not be a shift in other standards.