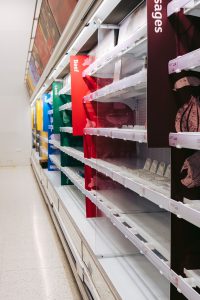 In regards to the Coronavirus, President Trump has signed an executive order to make sure the meat processing plants stay open during the epidemic. Under the Defense Production Act, the plants must stay open because they are considered a critical infrastructure in the U.S. Trump signed the executive order after learning that companies like Tyson Foods, started to consider only keeping 20% of their facilities open. Since many Americans have been forced to stay home during the virus, industry experts say the demand for meat has increased.
However, many of the country's largest processing plants have been forced to shut down because thousands of employees across the country have been tested positive positive for the virus. Already at least 13 processing plants have been shut down over the past two months according to the United Food and Commercial Workers International Union. Since the plants been closed, there has been a 25%  reduction in pork processing and 10% reduction in beef production.
In efforts to speed up the processing, this has led workers to stand closer to each other instead of maintaining the 6 feet apart rule. The union has estimated that 20 meatpacking and food processing workers have died so far and the situation has gotten very severe that the meat processing executives warned that the U.S. meat supply could be at risk.
Meat processing plants such as Smithfield and Tyson claim that they have been putting efforts in to keep their workers safe. This includes temperature checks and plexiglass to ensure social distancing in some areas. Some workers claim though that this is not enough.