iOS 13.5 beta was released to developers on Wednesday and includes a new feature that makes it easier for FaceID users to unlock their iPhones while wearing a mask. All you need to do is swipe up on your phone's lock screen to bring up the passcode screen. This bypasses the delay between FaceID activating, and your phone prompting you to enter a password.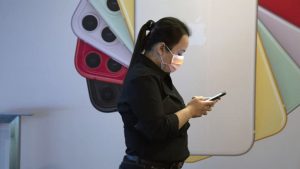 As many iPhone users have figured out recently, FaceID does not work with masks. The only way to use FaceID right now is to remove your mask and unlock your phone. This process can be very inconvenient and time-consuming while in public, especially if you don't have a free hand to lift your mask. Right now, the software is still in its beta phase and is only available to developers. Apple has not yet announced when this new feature will be made available to the public but it is expected to be released within the next few weeks.
Apple will release another new feature in addition to the modified lock screen. The iOS 13.5 also includes the first release of Apple's new contact-tracing API that will notify users if they are near somebody with Covid-19. There is no word on when that feature will be available to the public as it is still in the early stages of development.