A manhunt is underway for UCONN senior Peter Manfredonia, the primary suspect for a pair of homicides that took place last week. In addition to the murders, the 23 year old student is also believed to have carried out a home invasion, kidnapped a woman, and stolen multiple vehicles.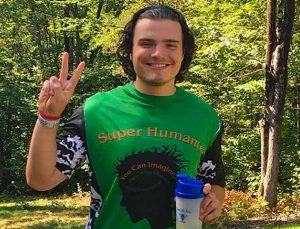 Authorities believe that Manfredonia began his crime spree with the assault of two men in Willington, Connecticut. Using an "edged weapon", he seriously injured one unnamed man, and killed Ted DeMers, 62. Following this incident, the fugitive allegedly broke into a nearby house, he stole a series of firearms and the homeowner's truck. This truck was later found crashed by Osbornedale State Park. 
The next incident involving Manfredonia occurred in Derby, Connecticut. Manfredonia allegedly entered the home of his acquaintance, 23-year-old  Nick Eisele. An argument between the two ensued that resulted in Eisele's death. Allegedly, the fugitive then kidnapped Nick's girlfriend and fled the scene in his Volkswagen Jetta. Both the vehicle and kidnapping victim were found unharmed at a rest stop in New Jersey. Manfredonia was last seen in Maryland.
The motive for Manfredonia's killing spree is currently unknown. According to his family and peers, the student had a history of mental-health issues but was never violent. In fact, Peter hailed from Newtown, Connecticut and has been an outspoken critic of gun violence since the Sandy Hook Elementary School Shooting in 2012. The fugitive's family has publicly reached out to him, urging for a peaceful conclusion to the manhunt and asking him to surrender. "Nobody wants any harm to come to you. It's time to let the healing process begin. It's time to surrender," said  attorney Michael Dolan. "If you are listening, your entire family loves you."
The University of Connecticut administration has been keeping students updated on the situation as it unfolds. A recent email from UConn president Thomas C. Katsouleas stated "as we struggle with how to grieve for this tragedy, and the other losses we have experienced this year, we must also do all we can to find comfort in the common humanity of our community, and remind ourselves of the kindness and beauty and good in the world.