As of Wednesday, the Hartford Women's Basketball team announced that they would opt-out of gameplay for the rest of their 2020-2021 season. The Hawks were 3-9 thus far but pulled the plug after 4 games against UMBC and Vermont originally scheduled at the end of January were cancelled. Although the decision one reached by both the Hartford coaches and players alike, it rested on head coach Morgan Valley to make the final call.
"It was my coach's decision," claimed team member Irene Primo. "but I think it's a decision she had to make because no one could do it anymore."
Since August, members of the Hartford men's and women's basketball teams have been stationed on campus, crossing their fingers for a chance at a regular season, especially after all fall sports were postpone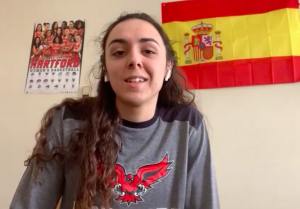 d until the spring due to the COVID-19 pandemic.
Women's basketball in particular spent nearly a month in quarantine before the start of their season in December, after several instances of positive cases amongst players. Additionally, the athletes and coaches were testing three times a week so that they could practice and play as normal; they would do just about anything for the chance to compete.
"I think we responded really well," Primo said. "We were together in everything we did and we did whatever they told us to do. That was the only way."
However, once the actual season began to take shape, the combination of pandemic prevention and competition logistics resulted in an ever-shifting schedule and constant cancellations. Rather than travelling and competing like they are accustomed to during the winter months, members of men's and women's basketball remained the only groups on campus. Most of the time, all they could do was practice and prepare for any opportunity to compete, opportunities which were increasingly few and far between.
"We just went day by day. We knew this could happen at the beginning of the season" Primo claimed. "It's just been really hard cause we didn't want to do anything off-campus just in case we could risk the team and bring more cases. No one was here so it was just mentally really tough."
After another 2-week span of called-off competition, a concern for player's mental health eventually outranked the Hawks forging through more potential disappointments. Hartford is now the third women's basketball program in the America to end their season early. Both UMBC and Vermont also dropped out due to COVID concerns.
"You can see it from the outside and it might sound stupid," said Primo. "But we know what we've been through. Our coach wants us to be mentally healthy and focus on academics right now and get mentally healthy to come back as strong as we can next year and fix this."
While men's basketball is still continuing with the remainder of their game play, this turn of events with the women's program sets a precedent of greater uncertainty for the rest of the Hartford teams set to compete this spring.