For the past two weeks, residents of Whitney Street in Hartford Connecticut have awakened to the sounds of strike out front of the Sunrise Group Home and Day Program as caregivers have taken to the streets to demand a new standard for themselves as essential workers.
The strike began when the Sunrise Northeast system of disabled group homes and the Healthcare Union District 1199 failed to reach a sufficient contract agreement last Thursday. This spurred employees across the state into action, championing for their holy trinity of worker benefits: a living wage, affordable health insurance, and a pension.
The demonstrators are composed of those who have dedicated at least a decade to serving at the Sunrise facility with no pay increase in the past 15 years.
One woman, Jennifer Brown, has devoted nearly 25 years to Sunrise Group Home in Hartford and is the paid the same wage as her daughter, Charmayne, who has worked there for 11. Jennifer must work two other jobs to support herself, stick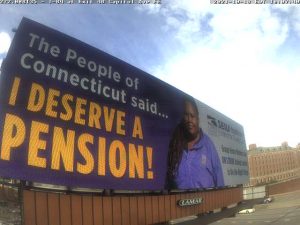 ing with Sunrise only so that she may stand by her clients.
"I stay here only for my clients," Jennifer told STN. "My clients are my family. We know what makes them cry, what makes them happy, seeing us makes them happy."
Fellow sunrise workers know that the shutdown is negatively affecting their patients, those of which suffer from severe mental and physical disabilities. The strike has sent the network of Sunrise facilities into temporary shutdown, affecting 160 regular residents and their families as they struggle to find new care solutions.
"I'm saddened that Sunrise won't meet our standards" said Sunrise worker Helen Gibbons. "It's unfair to us, but it's also really unfair to them [the clients] because they don't deserve this.
However, this knowledge has has only bolstered the commitment of Sunrise workers to making things better on their patients' behalf, as the ongoing strains of short-staffing at facilities such as Sunrise have only hindered the quality of care that these patrons receive.
"The workers feel though they've been exploited," claimed District 1199 Healthcare Union Communications Director Pedro Zayas. "Difficult patients, short staffing situations, dangerous diseases; they are putting their bodies on the line to protect their patients."
Additionally, Zayas claims that pandemic circumstances have caused many care homes to stoop down to a "mandation mentality", in which employers continue to extend emergency powers by over-scheduling workers and thus perpetuate an understaffed environment.
This example goes to show how the pandemic introduced its own slew of problems but in many ways exacerbated preexisting ones, including the ironic existence of many Connecticut healthcare workers, in that they can barely afford healthcare of their own. Due to a long-time dependence on private sector funding, unions claim that the faction of human services has remained largely underfunded. In light of this, District 1199 has made intense strides in advancing healthcare legislation for these workers—consisting mainly of minority women–throughout the state.
Specifically, Governor Ned Lamont satisfied union pressure and strike threats in May by approving nearly $400 million dollars in state funding for nursing and group homes to revive employee wages and benefits over the next four years. This decision has since rippled among healthcare facilities across Connecticut, as institutions one by one have applied for this financing to then flow toward worker wages. However, the Sunrise corporation has struggled to follow suit.
"We won it, the governor told us we could have a pension, we could have affordable insurance, and they said now" said Jennifer Brown. "They didn't even put in for the money until we started fighting." According to Charmayne, Sunrise workers "had to beg them, literally beg them."
Negotiations between union and the corporation have been ongoing over the past few weeks. And while Sunrise has reportedly made noticeable improvements to insurance and wages, there has yet to be a mention of a pension in their proposed contracts. As Sunrise faces shutdown, it has yet to be seen whether or not this sticking point will be resolved. But until then, employees remain adamant about their new expectation—no matter how long it takes.
"My children are grown—I've raised them at Sunrise," Jennifer told STN. "And I thank them for the job but it's time for them to step up. It's time for them to give us what we deserve."