Six games and counting? After getting their closest thing to a win in the James Harden era, the Clippers lost their sixth game in a row after losing by three to the Nuggets in a late game nail biter. After watching every Clipper game since they have put James Harden into the lineup, Paul Georges potential game tying shot that ended up wedging into the pocket of the rim seemed to summarize how their new look is working out for them. Honestly, five game losing streaks happen, not every team needs to win 65 plus games to be considered a "contender." This being said, when you're losing to either injured, average, or below average teams that are having an off night? Something is wrong, and as a Laker fan, this looks all too familiar.  
The 2021-2022 Lakers
When the Lakers traded Kyle Kuzma, Montrezl Harrell, Kentavious Caldwell Pope, and a pick to the Wizards in return for Russell Westbrook after a disappointing first round playoff loss to the Suns, the Lakers made something very clear; they were valuing star power over depth. On top of this, the Lakers acquired legendary superstar veterans like Dwight Howard, Rajon Rondo, Carmelo Anthony, and Deandre Jordan, along with other familiar faces from the past like Wayne Ellington, Trevor Ariza, and Kent Bazemore. By acquiring these pieces, LA also had to say goodbye to association grown players like Alex Caruso, who signed with the Chicago Bulls for a better fit and more money. The Lakers were projected to be unstoppable, many saying they would achieve 60 to even 70 wins in the regular season, Lebron James and Anthony Davis's injury history included. It's safe to say that the Lakers didn't live up to these expectations, having nearly half of the new additions getting under 5 minutes per game or on another team by December. After not making the play in, and the only additions to the roster to be happy about being Malik Monk on an expiring deal, undrafted rookie Austin Reaves, and 2 Way Contract call ups Stanley Johnson and Wenyen Gabriel, the Lakers had some serious changes they needed to make. My Lakers eventually figured it out, after an incredible bounce back season falling short in the Western Conference finals and starting off this season above .500 despite injuries, but that's not the subject at matter.  
Tying this to the Clippers 
Now that the Lakers attempt to value star power over depth experiment has come and passed, I believe the Clippers are having their turn with the concept. Sending off Nicolas Batum, Robert Covington, Kenyon Martin Jr, and Marcus Morris, in return for only James Harden and P.J Tucker, the Clippers are putting it all out for the beard. On paper, the Clippers look incredible, two runner up MVP level talents still in all-star form, Paul George and Kawhi Leonard, and two former MVP's who can operate the playmaking side of things, Russell Westbrook and James Harden. But when you watch them, it's an absolute mess. It's no secret that Russell Westbrook doesn't require much defensive attention from the deep mid-range to three-point area, allowing his defender to hover around the mid-range area, where Paul George and Kawhi Leonard effectively operate, leaving center Ivica Zubac moderately covered as he doesn't operate much farther than the mid-range elbows, and then James Harden who has been a shell of his star level self this season on an island to run what he likes to think of his, "system." To put it lightly, it's a disaster. The Clippers occasionally will have spurts where Paul George will get hot for a moment hitting a couple shots in a row, or Kawhi Leonard will force the opposing teams first scoring option to waste half of the shot clock in a failed isolation, but plays like these need to happen for majority of the game for the Clippers to avoid digging their inevitable hole of a deficit they seem to always achieve. Tying back to the 2022 Lakers this was also a very consistent pattern. Lebron James would hit back-to-back threes, and maybe get an and 1, or Anthony Davis would get a coast-to-coast block and lob dunk, but then 6 possessions later the opposing team goes on a 5-0 run simply off hustle plays. What you might think I'm trying to say is that heavy star power doesn't work because you don't have the guys to do the nitty gritty, in this case yes, but not always. The back-to-back champion 'Kevin Durant Era' Warriors experienced these struggles when guys like Andre Iguodala or Shaun Livingston weren't in the lineup, but with Draymond Green, Stephen Curry, Klay Thompson, and Kevin Durant, arguably all in prime form, there was no consistent, "outplaying" happening like the old Lakers and the modern Clippers. On top of this, I see one glaring issue between both, Russell Westbrook.  
Russell 'second round at best'brook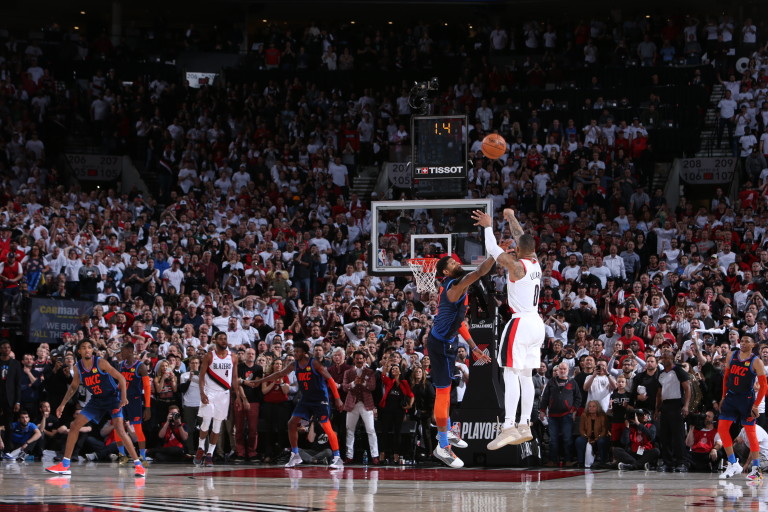 Since Kevin Durant left the Oklahoma City Thunder back in the summer of 2016, we have seen countless experiments and eras of Russell Westbrook that simply resulted in mediocrity in the postseason. After winning an MVP as the 6th seed and averaging a triple double, you must've thought that if you add some more talent to this guy's roster, even one all-star, the Thunder would be an easy title contender. The short answer? They went above and beyond, adding MVP runner up Paul George, and acquiring players that were on the rise to stardom like Domantas Sabonis, Victor Oladipo, and Jerami Grant, just to fall short to a young jazz team being led by rookie Donovan Mitchell, and newly established starter Rudy Gobert. The next year, the same result, this time in a humiliating Damian Lillard series ending game winner. Westbrook then went to team up with James Harden on the Rockets, just to barely squeeze by an overperforming Chris Paul lead thunder team in 7 games and lose to the Lakers in a convincing 5 game second round series. Then the wizards, first round exit, the lakers, no playoffs, the clippers, first round exit, and now we are at six games lost in a row. All this happening whilst Russ is either averaging a triple double, or near it. I will give it to Russ, the Kawhi and Paul George – less Clippers had no chance against the Suns in the first-round last year, but it must be noted that the Lakers after trading Westbrook in February, jumped from the 12th seed to the 7th in just two months, and the Clippers declined. The way I see it? Russell Westbrook does not attribute to winning basketball, and if the Clippers want to make this experiment work out, which I think they can, number zero has to go. If not, I realistically see them dodging the play in.  
Final Thoughts 
It seems inevitable that Russell Westbrook will be demoted to sixth man to lead the second unit of the Clippers going against their off-season contract promise towards him, as James Harden will request to be in another uniform before he accepts a bench spot. Russell Westbrook is a competitor, he gives his 100% every time he has the opportunity to play the game he loves, but for jewelry in the NBA that just simply isn't enough. Assuming he does get moved before the trade deadline, that is Russ's fifth team in five years, and it will have the NBA management questioning what they're really getting themselves apart of when thinking of acquiring Russ.