This is part two of highlighting sixteen college basketball players who I think have a good chance of becoming household names this season. The first eight have been addressed in part one, and the following eight will be covered here. Let's get started once again!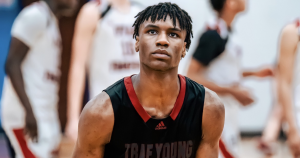 Ja'Kobe Walter, Baylor
A McKinney, Texas native who attended Link Academy in Missouri, Ja'Kobe Walter is one of the highest-upside players in the freshman class. Walter thrives off the ball, hitting catch and shoot jump shots by way of great balance and a repeatable form. He is also starting to experiment by shooting off the bounce, making him more dangerous on the ball as a result. Walter is a smooth operator while playing under control with deliberate decisions and great pace. On the defensive side, he plays like a bulldog and uses his strong hands to get steals and guard ball handlers. Walter has the chance to get meaningful playing time right away at Baylor while continuing to showcase himself as a do-it-all combo guard with increasing on-ball scoring talent.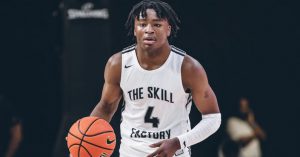 Isaiah Collier, USC
Isaiah Collier is a talented point guard who is looking to get major playing time at USC. Collier, from Atlanta, Georgia, is a top-three-ranked player in the freshman class. The first thing about his game that stands out is his build. Standing at 6 ft 3, he is stocky but built with turbo jets. Collier has really fast speed, and defenders cannot stay in front of him. He is a confident floor general who can get creative with passes on the move while also finishing well at the rim with creativity. He can also defend well at the point of attack, with a punishing demeanor and attitude. Collier can sometimes go too fast for his good, as he is sort of like a runaway train which can lead to trying to find something that is not there. However, when he takes his time, his instincts come through, and has more success. If USC can teach Collier to pick and choose his spots better and keep developing his outside shot, he can become a dominating point guard in college basketball right away.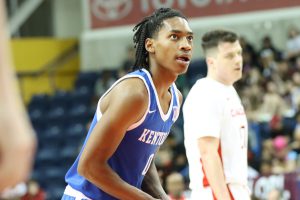 Rob Dillingham, Kentucky
Rob Dillingham is the most fascinating player in the freshman class. Coming from Overtime Elite in Atlanta, Georgia, Dillingham looks to be a scoring weapon for Kentucky. Standing at 6 ft 2, he does not have great size but makes up for it in skill. Dillingham is a dynamic and confident shot-maker, as no shot is out of range for him. He is a quick and smooth ball handler, and defenders cannot contain his shifty movements, and creates a lot of space for himself because of it. Dillingham is also a smart passer who takes advantage of his opportunities to create points for his teammates. His attitude and killer mentality stand out, and always puts on a show who thrives in the spotlight. Dillingham still needs work defensively, and can sometimes do too much and take unnecessary shots. If John Calipari can reel him in a bit by improving his shot selection, the Wildcats have an impressive backcourt duo on their hands.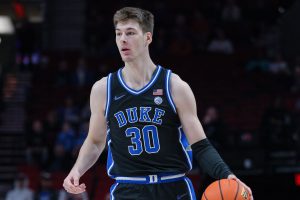 Kyle Filipowski, Duke
A sophomore from Wilbraham, Massachusetts, Kyle Filipowski excelled in his first year at Duke and looks to continue that this season. Filipowski is a big 7-foot forward who is mobile and strong for his size. He has a modern skill set with a beautiful outside shot and has shown off the dribble flashes from time to time. Filipowski has great footwork to go with the shot and dominates down with interior scoring. He also rebounds well for his position and can also defend the rim better than you would expect. Filipowski's main weakness is defense, as he would struggle to defend in space and deal with high-level athletic specimens. He got off-season surgery to improve his hip flexibility, which should benefit him going into the year. Jon Scheyer and the Blue Devils have their top offensive piece, and Filipowski should help them win in a deep tournament run.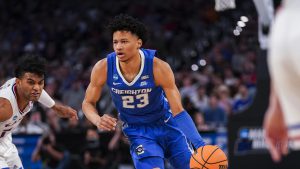 Trey Alexander, Creighton
A junior from Oklahoma City, Oklahoma, Trey Alexander has steadily risen through the ranks. After being an under-the-radar recruit who played at Heritage in Oklahoma, Alexander over the past two years has played his way into being a huge contributor for Creighton, and their most important piece. He can score from the mid-range and can pull up on a dime. Alexander can also shoot the three-ball well, which makes him very potent. He can also handle the ball with ease, showing true ability as a combo guard. Alexander makes smart passes and is a true connective tissue for the Bluejays offense, while also being a good on-ball defender on the other side of the court. Greg McDermott has a true leader who can make noise in the tournament with Alexander leading the way.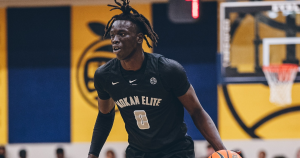 Omaha Biliew, Iowa State
The highest-ranked recruit in the history of Iowa State basketball, Omaha Biliew from Waukee, Iowa, looks to do big things in his home state. Biliew is a highly athletic and versatile wing at 6 ft 8. He plays with a very high motor and energy, which seems to rub off on his teammates. Biliew is a tough defender who plays with a defined edge and can create issues for opposing offenses. His main strength on offense is scoring at the rim, as he takes advantage of his physical gifts by slamming the ball into the hole. Biliew can also be a key lob threat and be effective in transition as a play finisher. His main weakness is shooting, as even with a pretty form, the ball tends to miss awkwardly most of the time. If Biliew can improve his shot to be average, he will be an effective wing player that Iowa State needs.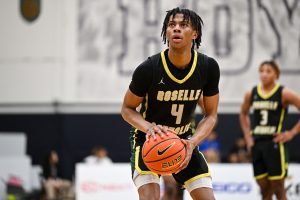 Simeon Wilcher, St. John's
Simeon Wilcher, who starred at Roselle Catholic in New Jersey, originally committed to North Carolina. However, when Elliot Cadeau also committed, Wilcher changed course and joined Rick Pitino and St. John's. What makes him special as a player is his offensive ability. Wilcher is a dynamo on-ball scorer with a smooth jump shot he can get to with ease. He can also run an offense well by making decisive passes and facilitating well. Wilcher is confident going downhill and is not afraid to use his bounce to contort himself in the way to finish at the rim. He also possesses upside on the defensive end with his long arms and good instincts. The Red Storm landed someone close to home who is not afraid of big moments, and who should contribute to bringing St. John's back on the map.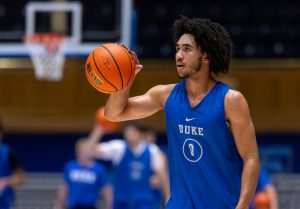 Jared McCain, Duke
Jared McCain from Corona, California, looks to be an ancillary player for Duke who brings scoring punch. McCain can shoot the ball and has amazing repeatability and consistency. He can also score in the paint, using his strong body to punish opponents and create some space for himself. Overall, McCain's efficiency is what makes him stand out. He makes little mistakes, which makes him valuable around players like Kyle Filipowski and Tyrese Proctor. His basketball IQ is off the charts, he makes the right pass rather than the highlight reel pass. McCain is not the most athletic player in the world and can struggle against better athleticism when he is trying to create for himself on the ball. However, if Jon Scheyer can get him to buy into playing his role, his strengths make the Blue Devils a tough team to beat, especially with the offensive weapons Duke has at their disposal.