The crash occurred on 11th Avenue in Downtown Manhattan on April 7 around 7:15 AM. Security camera footage shows the car losing control and slamming into a parked minivan at over 40MPH. Despite the damage done to the front end of the car, the driver managed to flee the scene while attracting a small crowd in the process. The car crashed into several more parked cars before eventually becoming immobile. The driver, supercar collector and goldRush rally cofounder Benjamin Chen was arrested at the scene for reckless driving and DUI. Thankfully, all five parked cars were unoccupied and nobody was hurt.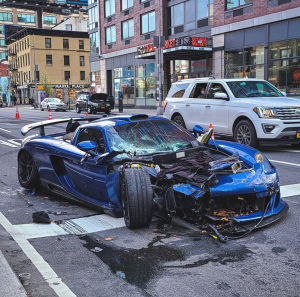 The car itself, as well as its owner, are no stranger to reckless driving. A video uploaded in 2016 shows the same car speeding through Beverly Hills.
The $800,000 Supercar is one of only 25 in the world. It is a heavily modified supercar based on the Porsche Carerra GT. The company behind the Mirage GT is known for building some insanely cool custom Porsches including this off-road Porsche 911.
As for the driver himself, this is far from the first exotic car he destroyed due to his reckless driving. Other noteworthy cars he has destroyed include a McLaren MP4-12C which was totaled back in 2013 and an insanely rare Lamborghini Murcielago SV with a gated 6-speed manual transmission. It is believed that that car was one of only three Murcielago SV's built with a manual transmission. It's also believed that he has damaged several more cars over the years including a Bugatti Veyron and a Mercedes Benz CLK GTR (which is also one of only 25 in the world).