The newest college basketball season is finally here! Every year we see new faces step up to the plate and create moments and memories that will last for decades upon decades. Today, I will highlight sixteen players who I think have a good chance of becoming household names this season. The first eight will be addressed in part one, and the following eight will be covered in part two. Let's get started!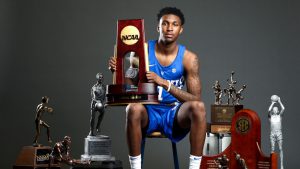 Justin Edwards, Kentucky
A small forward from Philadelphia, Pennsylvania, Justin Edwards is a top-three ranked player in the freshman class. Coming from Imhotep Institute, Edwards has a well-rounded skillset that should play well right away. Edwards can affect games by not being the primary focus of an offense. He is a good athlete who can make cuts off the ball. The jump shot is solid and smooth off the catch as a lefty. He has shown flashes of creation on the ball with smooth drives to the rim. Edwards can also defend well and plays with good tenacity on that end. The player that Edwards reminds me of is R.J. Barrett, because of how even if nothing in particular stands out, they both can change the game in different ways because they are not super deficient in any area. John Calipari and the Wildcats have a jack-of-all-trades athlete who can succeed in a wide variety of scenarios and should impact Kentucky from the jump.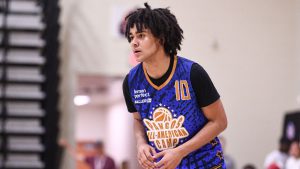 Elliot Cadeau, North Carolina
A point guard from Oradell, New Jersey who attended Link Academy in Missouri, Elliot Cadeau already has a lot of experience as an incoming freshman. Born to a Swedish mother, Cadeau was able to qualify and play for the Swedish national team, which has given him an edge compared to his peers. Cadeau's specialty and calling card is his passing ability. Simply put, Cadeau is the best passing point guard in the freshman class. He is gifted in the pick-and-roll, and often makes his teammates better by giving them easy lobs. Not only can he create for others, but he can create for himself by getting to mid-range pull-ups and finishing at the rim. On the defensive end, while undersized, he plays with a passion and intensity that stands out. Cadeau's overall skill set gives me vibes of a mix between Steve Nash's passing and Chris Paul's scoring. He is the type of stabilizing force that wins games with his smarts and consistency. The Tar Heels and Hubert Davis should benefit from Cadeau running the show in North Carolina.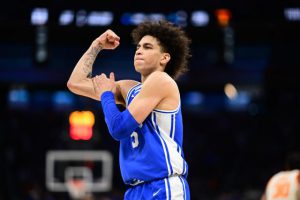 Tyrese Proctor, Duke
A sophomore point guard from Sydney, Australia, Duke is giving Tyrese Proctor the reins. Proctor attended the NBA Academy in Australia, before reclassifying a year early to get a head start for the Blue Devils. Proctor had his ups and downs last season but is primed for a massive jump this season. Proctor is a big guard at 6 ft 5, who has tremendous offensive skill. He is a very good shooter who has great touch from three and the mid-range. Proctor can pass the ball to go with the shooting skills and makes players' lives easier. He is cerebral, deliberate, and plays with great pace on the court. Defensively, he plays hard and can get deflections easily with his long arms. Proctor was able to end last season well in the NCAA Tournament, which should able to transfer over for the start of the new season. Jon Scheyer has a very useful and important piece that can help Duke get back to the top.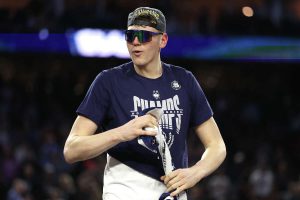 Donovan Clingan, UCONN
The hometown kid from Bristol, Connecticut, Donovan Clingan has made his home state proud. After being a star at Bristol Central, he helped UCONN and the Huskies win the NCAA Championship as the backup five-man off the bench. With starting center Adama Sanogo off to the NBA, Clingan takes over with high expectations. Clingan is a tall man standing at 7 ft 2, who is mobile and smooth. He is very efficient inside the paint on offense and defends the rim exceptionally with great timing on blocks. Clingan is experimenting with his range from three this upcoming season, which should add an interesting dimension to his offensive repertoire that was not there previously. Dan Hurley and the defending champions should be in contention again with Clingan taking on a more significant and essential role.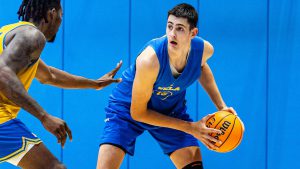 Aday Mara, UCLA
From Zaragoza, Spain, Aday Mara was a professional basketball player before changing course to attend UCLA. Mara has a unique ability for a Center. Towering the competition at 7 ft 3, the Spaniard's main standout skill is his passing ability for someone his size. Not only can he make simple passes, but he can make really difficult and advanced reads with standout confidence. He is such a talented passer, it is on par with NBA-level big men such as Nikola Jokic and Alperen Sengun. Mara is a true connective piece who can benefit his teammates. He can score well on the interior and can block shots down low as well. Mara isn't perfect, however, as he struggles to defend in space and he cannot stretch the floor right now. But the strengths of Mara can help UCLA and Mick Cronin win immediately, as not many teams can defend a Giant in the post.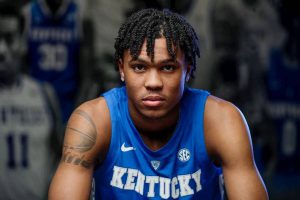 D.J. Wagner, Kentucky
The pride of Camden, New Jersey, Wagner comes from a long line of basketball players. His grandfather Milt Wagner and father Dajuan Wagner, both were McDonald's All-Americans in high school and played in the NBA. Wagner is next up in the family tree and possesses an interesting brand of basketball. He has great burst and speed and contains a tight and quick handle. Wagner is very adept at finishing at the rim, with creative and crafty moves that stun the opposition. His shooting skills are still a work in progress but has shown signs of big development in that area of his game over the past couple of months. Wagner is also a great competitor, who plays hard on both ends and is a born leader on the court. John Calipari and the Wildcats have a tough-minded player who will thrive during the big moments and should be able to make the team better as a result.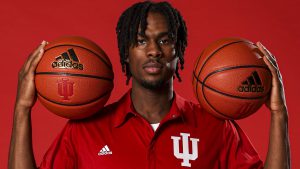 Mackenzie Mgbako, Indiana
A scoring forward from Gladstone, New Jersey, Mackenzie Mgbako played his high school ball at the esteemed Roselle Catholic. Originally committing to Duke, he changed course and decided to join Mike Woodson and the Indiana Hoosiers. Mgbako is an offensive creator inside and out and is a tall shooter at 6 ft 9. He has terrific balance and can score off many different angles and situations. His scoring feel is advanced and can score on and off the ball. Defensively, he stands out off the ball by getting into passing lanes by using good intuition and instincts. Mgbako can struggle however defending on the ball, as his feet can get tangled and he loses his man too much. If Indiana can get him to have better footwork, Mgbako has the chance to be a very impactful player for a potential tournament run.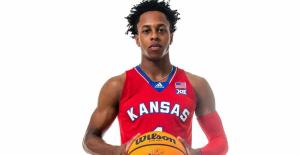 Elmarko Jackson, Kansas
A Richland, New Jersey native who played at South Kent in Connecticut, Elmarko Jackson has a lot of traits comparable to Ja Morant. Jackson stands out by his physique, as he is strong. He is really quick and speedy and hard to defend both in transition and the half-court. Jackson gets above the rim with ease and showcases powerful and impressive dunks by attempting to destroy the basket and also shoots on and off the dribble with great touch. The Intensity he shows on defense is also impressive, getting in players' faces at the point of attack. Jackson might not have the runway to play right away, playing behind Dajuan Harris and Nick Timberlake in the Jayhawks backcourt. But Jackson has more talent than both of them, and if given a chance Jackson can be a game-changing player for Kansas and their championship hopes.
Head over to part two to see eight more players I think can become household names this season!