With just one week before Inauguration Day, House Democrats are looking to make more than a statement in their historic second vote to impeach President Trump. This time for "incitement of insurrection" following the chaos of the recent Capitol Hill takeover on January 6th, the House voted 232-197 in favor of impeachment.
And while the Democrat members have remained unanimous in their push against the President, the winds have shifted amongst House Republicans as 10 voted in favor of impeachment—a significant increase from the zero GOP defections in Trump's 2019 impeachment.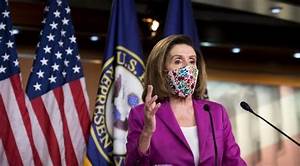 This is because while Republicans were unconvinced of foreign involvement in the 2016 election, many now assign Trump responsibility for instigating mob motive in storming the Capitol. "The president of the United States summoned this mob, assembled the mob, and lit the flame of this attack," said House Rep. Liz Cheney of Wyoming. "Everything that followed was his doing."
Contrarily, aside from views on the attempted siege, most Republicans view the political action as pointless and unjustified considering the impending transfer of power come January 21st. "If we impeached ever politician who gave a fiery speech to a crowd of partisans, this Capitol would be deserted," claimed Calif. Rep. Tom McClintock who voted against impeachment. "I cannot think of a more petty, vindictive and gratuitous act than to impeach a president a week before he leaves office."
As for what's next, House Speaker Nancy Pelosi is urging that the article of impeachment be sent to the Senate so that an emergency session and trial can take place before President-Elect Joe Biden is sworn in on January 21st.
However, even if the Senate were to begin a trial immediately, Senate Majority Leader Mitch McConnell claimed that the prospect was unlikely considering a verdict would be impossible to reach before Inauguration Day, stating: "I believe it will best serve our nation if Congress and the executive branch spend the next seven days completely focused on facilitating a safe inauguration and an orderly transfer of power to the incoming Biden administration."
Overall, while the push for a second impeachment in a single Presidential term is unusually historic, the action is ultimately insignificant as the onset of a new administration rapidly approaches.
.