While each respective Superbowl is inevitably historic, Super Bowl LV emerged as supremely so as the Tampa Bay Buccaneers took home their first Lombardi against reigning champions the Kansas City Chiefs in a 31-9 victory.
Originally, the game was anticipated for its significant quarterback matchup between Tom Brady—A Super Bowl frequent flyer with now 7 rings to show for it—versus young gun Patrick Mahomes who wields 2 Super Bowl appearances in his first 3 years as a starting NFL quarterback.
But, despite featuring these offensive powerhouses, the final score of the night came down to defense…and the lack thereof.
Right from kickoff the Bucs applied the pressure, capitalizing on the Chiefs hodge-podge offensive line due to 3 starters being out for injuries. Lead by linebacker Devin White (12 tackles, 1 interception), Tampa Bay defense relentlessly penetrated the passing pocket and held Mahomes to a mere 350 passing yards and zero touchdowns for the entire game.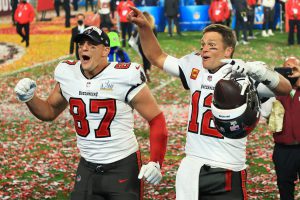 When considering the fact that the Chiefs had one of the most potent offenses in the league, seen especially when they swept the Bucs in Week 12 with 543 yards and 27 points, the defensive shutdown is a significant turnaround.
Aiding the Chiefs in their offensive eminence this season was the combination of heavyweight receivers Travis Kelce and Tyreek Hill. The two entered the Sunday arena basking in being the first pair of teammates in history to record consecutive 100 receiving yards in one postseason.
Although Mahomes managed to sling some of his quintessential precision passes while scrambling like a gazelle, Tampa Bay kept these trusted receivers under lock and key, containing Hill to one measly five-yard rush and no receptions for the night.
"They had a good game plan," Mahomes said. "They took away all our deep stuff. They took away the sidelines and they did a good job of rallying to the football and not missing tackles…I just think we weren't on the same page as an offense in general."
On the flip side, the Bucs combination of fluid efficiency on offense propelled them to pull away early on. While KC had to settle for three field goals in the first half, Brady was deadly in the pocket and racked up three touchdowns in this same time frame.
Because of this and his well-known track record of success, Brady is absolutely deserving of his fifth Super Bowl MVP award. And while many argue that the refs conspired to perpetuate the Brady G.O.A.T. narrative, take away the string of controversial calls and the same outcome would remain: the Chiefs go home humbled.