The back and forth between the White House and Congress this week has assumed a flair for the dramatic, a classic "will they or won't they" in regard to settling on another Covid-19 stimulus deal. On Tuesday, Twitter witnessed President Trump refusing to further negotiate on the matter until after the election as he posted saying "immediately after I win [the election], we will pass a major Stimulus Bill that focuses on hardworking Americans and Small Business."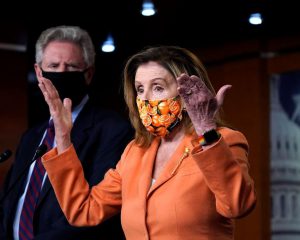 This unilateral action stemmed from Trump's festering frustration from months of being unable to reach an agreement on the fundamentals of another relief package, claiming that House Speaker Nancy Pelosi "wasn't negotiating in good faith", as he and congressional Republicans offered up a $1.6 trillion plan but were met with rejection as House Democrats lead by Pelosi wouldn't budge from the $2.2 trillion act they passed last week.
However, hours after walking away from negotiations, Trump returned to Twitter to call for a standalone bill from Congress that would direct $25 billion towards aiding airlines and $135 billion devoted to small businesses, as well as desiring another round of individual $1200 stimulus checks to be included in a separate bill.
Pelosi responded to the request in a Thursday press conference, saying "There is not going to be any standalone bill unless there is a bigger bill and it can be part of that, or it could be in addition to it." Though Pelosi remains adamant about passing big-government legislation, the president signaled a continued willingness to compromise. "We're talking about a bigger deal than airlines, we're talking about a deal with $1,200 per person," Trump told Fox Business. "I think we have a really good chance of doing something."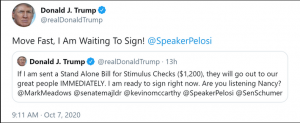 So, the trillion-dollar tango persists as Americans are left twiddling their thumbs, waiting to know the specific number by which our bank accounts will surge…along with our national debt.