The storm system started wreaking havoc in Texas with severe weather on Saturday, April 11. It headed East resulting a reports of at least 40 tornadoes spanning from Texas to South Carolina. The places at risk range from Northern Florida all the way to New Jersey and Central and Eastern Pennsylvania.
Update to the tornado that went through East Chattanooga:

Storm survey has found EF-3 damage with winds estimated around 145mph. Storm survey is still ongoing, we'll continue to post updates as they come in. pic.twitter.com/wHZV3xVlom

— NWS Morristown (@NWSMorristown) April 13, 2020
The storm has killed at least 24 people and destroyed hundreds of structures. The newly displaced people now face the challenge of going to shelters during the COVID-19 pandemic.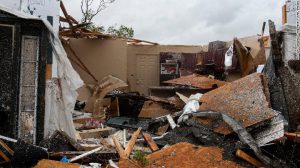 Monroe, Lousiana Mayor Jaime Mayo asked for local hotels to provide shelter to the newly homeless in an attempt to not open emergency shelters that could put people's health at risk.
Alabama Govenor Kay Ivey said, "Shelters and community safe rooms should remain open and accessible to all individuals seeking refuge from this severe weather, while implementing reasonable practices and procedures to prevent the spread of COVID-19 among those seeking shelter." Governor Ivey has issued a state of emergency.
New York City Mayor Bill de Blasio told residents to continue social distancing in preparation for the strong winds and rain that will hit the city.