The renowned "Halloween House" in West Hartford, Connecticut has based this year's decorations on the recent events surrounding COVID-19 and the Black Lives Matter movement. Dr. Warshauer, a professor at Central Connecticut State University is the mastermind behind the themes and art. He stated that he chose these topics as the theme for this years' set because they are the pressing social issues of 2020.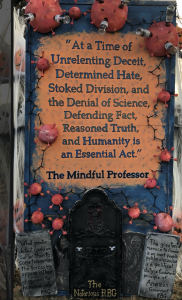 Every year, Dr. Warshauer elaborately decorates his house for Halloween with a political twist. The year he started to go all out and incorporate politics into his Halloween displays was the year after the Iraq War started, as he was upset by all of the politics surrounding it.
Dr. Warshauer plans what he is going to create and begins crafting months before Halloween. He stated that some years, he has spent up to months working on a set, and other years, he has spent little as a week planning and creating.
Creating the sets and decorations is now a family tradition for the Warshauer family. His daughters help paint the sets, and Dr. Warshauer does the handiwork with putting together the wood and cardboard for the rest of his family to paint on.
He also talked about how he loves that people come to visit his sets every year and have had meaningful conversations with him about his themes. "The point of this all is to enjoy and to create conversation". Dr. Warshauer said. He went on to mention how many people have told them that they come to visit his house every year around Halloween to see what he has created for the season. Dr. Warshauer takes pride in the amount of people that enjoy his art.
Visit the "Halloween House" on the N Main Street before the end of October to see the hard work Dr. Warshauer and his family did for this Halloween.