In less than two weeks, nine professors within the College of Engineering, Technology, and Architecture at the University of Hartford came together to design and deliver much-needed face shields to local healthcare workers. These professors started the process of gathering, modifying, and assembling materials back in April and were delivering the finished face shields by early May. While the main part of the face shields are made out of the same material used for overhead projectors, the top part is 3D printed and made out of PLA, polylactic acid, plastic.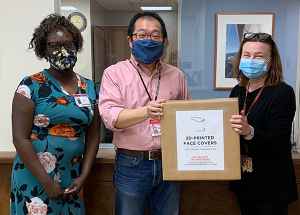 The first 100 face shields created were donated to Cigna, who went on to deliver them to healthcare professionals in the greater Hartford area. Cigna also delivered masks to an assisted living facility, Masonicare, as well as the Hebrew Senior care. Takafumi Asaki, the Assistant Professor of Biomedical Engineering was a leader in the project. "We brought them to healthcare workers, and they are really happy to have them," he said in an interview.

In addition to local healthcare workers, the face shields are being used by faculty at the University of Hartford. Professor Asaki claimed that extra face shields are put to good use throughout campus. "Somewhere on the campus, we are using it. One of the chemistry professors, she wants to use it on her research in her chemistry class."

For more information, you can check out this UNotes article from last spring.
https://www.hartford.edu/news/press-releases/2020/04/ns-ceta-faculty-staff-3d-print-face-covers-for-health-care-professionals.aspx