What started out as a positive COVID test quickly evolved into the greatest presidential health scare in recent memory when President Trump checked in to Walter Reed Memorial Hospital as a "Precautionary measure". What followed was a week of uncertainty brought about by rare video appearances and deliberately vague responses from hospital physicians, a notable example being White House Physician Sean P. Conley refusing to disclose whether or not the president required supplemental oxygen as part of his COVID-19 treatment.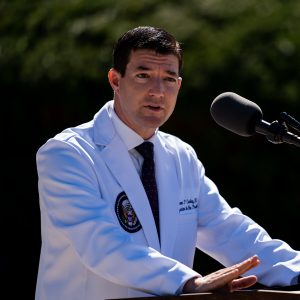 "He's not on any oxygen right now thats right. Hes not needed any this morning at all." said Reed, refusing to elaborate on whether or not Trump had needed oxygen since the diagnosis. During his treatment, Trump made the controversial decision to leave the hospital and visit the crowd that had formed outside of Walter Reed. Although he was inside of a limousine, many believed that this call set a bad precedent for the nation amid growing COVID cases.   Despite concerns, the President's condition seemed to improve after taking an experimental drug cocktail from pharmaceutical company Regeneron. In a video posted to the President's official twitter, he claimed that his stay at the hospital taught him a lot about COVID-19 stating  "I learned it by really going to school. This is the real school. This isn't the lets read the books school and I understand it". He left Walter Reed at 6:30pm Monday evening.
Upon his return, Trump removed his face mask in a theatrical display on the White House balcony. This drew further criticism as many  people believed his actions recklessly endangered White House personnel, and downplayed the threat of COVID-19. The next morning, the President took to Twitter to further downplay the threat of COVID-19. In a tweet that was later flagged as misinformation, he stated that COVID was far less lethal than the flu.
The president posted a  posted a video message Wednesday night, claiming that he wants to make the Regeneron drug cocktail available on a widespread scale, and that contracting COVID was a "blessing from God". He then went on to state "Its' going to be much more than a therapeutic. You're gonna get better. You're gonna get better fast just like I did." It is not yet known if the Regeneron cocktail will be approved for widespread public use.