Earlier today, President Jair Bolsonaro of Brazil announced on local television that he had tested positive for COVID-19. This announcement confirmed the speculations from multiple sources earlier that morning claiming that the leader had been showing symptoms of the virus, namely a 100 degree Fahrenheit fever.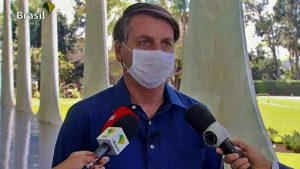 News of Bolsonaro's positive test result isn't necessarily a surprise for many who have been following the President's reaction to the pandemic, as he himself (and subsequently his administration), have been largely skeptical as to the impact of the virus and resistant to preventative measures. The President has been seen appearing in public without a mask interacting with supporters, and has been pushing for Brazil reopening since as early as March 24th.
This relaxed approach to quarantine, social distancing and other common preventative actions has led to Brazil being the country with the second worst outbreak (following the United States), with a total of over 1.6 million confirmed cases and 65,000 deaths.
During his press conference, Bolsonaro reiterated his insistence on reopening the economy. He stated, "life will continue, and Brazil needs to produce. If the economy isn't functioning, it will create other problems that will lead to more death." Afterwards, he again encouraged businesses to ignore local government guidelines ordering them to remain closed.
The President has stated that he is currently being treated with both hydroxychloroquine and azithromycin, and that his symptoms are comparable to a "little flu."