Two high ranking Iranian military officials, Qassem Suleimani and Abu Mahdi al-Muhandis, were killed earlier today in Iraq after their vehicle was hit with "shelling" from an airstrike over the Baghdad International Airport. The Department of Defense has confirmed that the attack was conducted per request of President Trump, and was described in a Pentagon press release as a "decisive defensive action to protect U.S. personnel abroad".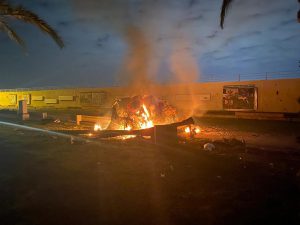 Soleimani was the commander of Iran's Revolutionary Guards Quds Force, and had been accused of approving and orchestrating the attacks on the U.S. Embassy in Baghdad that occurred earlier this week. The Pentagon has confirmed that Soleimani was the intended target of the airstrike, including that the US had previously designated the Revolutionary Guards Quds Force as a foreign terrorist organization.
Al-Muhandis was the deputy commander of the Popular Mobilization Force (PMF), a group formed in 2014 to fight ISIS that became officially recognized in 2016 by the Iraqi government. PMF sources report that two of their vehicles were hit in the attack, leading to a currently undetermined amount of causalities in addition to Suleimani and al-Muhandis.
This attack has led many to fear significant retaliation efforts by Iran against the United States, after months of downturns in relations between the two nations.
The Iranian National Security Council is in the process of meeting to discuss a response to this attack.
This is a breaking story, and STN will provide updates as it develops.