The Hidden Opponent is a mental health advocacy group that focuses on providing resources for student athletes. The athletes can be from club teams, intramurals, or Division 1 teams. A new club on campus, The Hidden Opponent hopes to act as a sort of bridge between different types of student athletes. One of their campus captains, Danielle Rocheleau, said: "I'm huge on mental health and using our experiences to help each other is awesome. I'm excited to open it up to everyone because I think a lot of times we are, not necessarily divided with club athletics, but we're going to be able to include everyone to just raise awareness and offer a helping hand to athletes."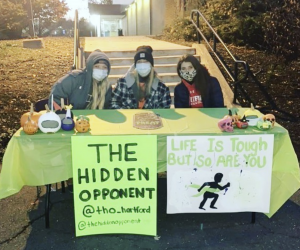 The Hidden Opponent believes that being mentally strong, not only on the field, but in the classroom as well is a big part of their game and very important on the road to success. The campus captains work together to foster that sort of environment and continue to learn about mental health for athletes.
The club has no events planned as of yet, but they're working on ways to be there for student athletes when they need. "We want to get involved in like maybe chalking policies where we can just write motivational things around campus to help people out and kind of get our name out there," said Rocheleau. 
While the club is relatively new here at UHart, they hope to work with CAPS in order to provide a safe space for UHart's student athletes. They have 4 campus captains, who are fellow student athletes, that you can reach out to or follow their Instagram account, @tho_hartford, and DM them for support.