On Wednesday, October 28th Dean of Students Aaron Isaacs officially released the 2020 edition of UHart's Drug and Alcohol Abuse Prevention Program, also known as DAAPP. STN reached out to Director of Student Conduct Dave Stender to find out how this semester's unique circumstances have impacted the program which he calls "a one stop shop for everything having to do with alcohol and drugs".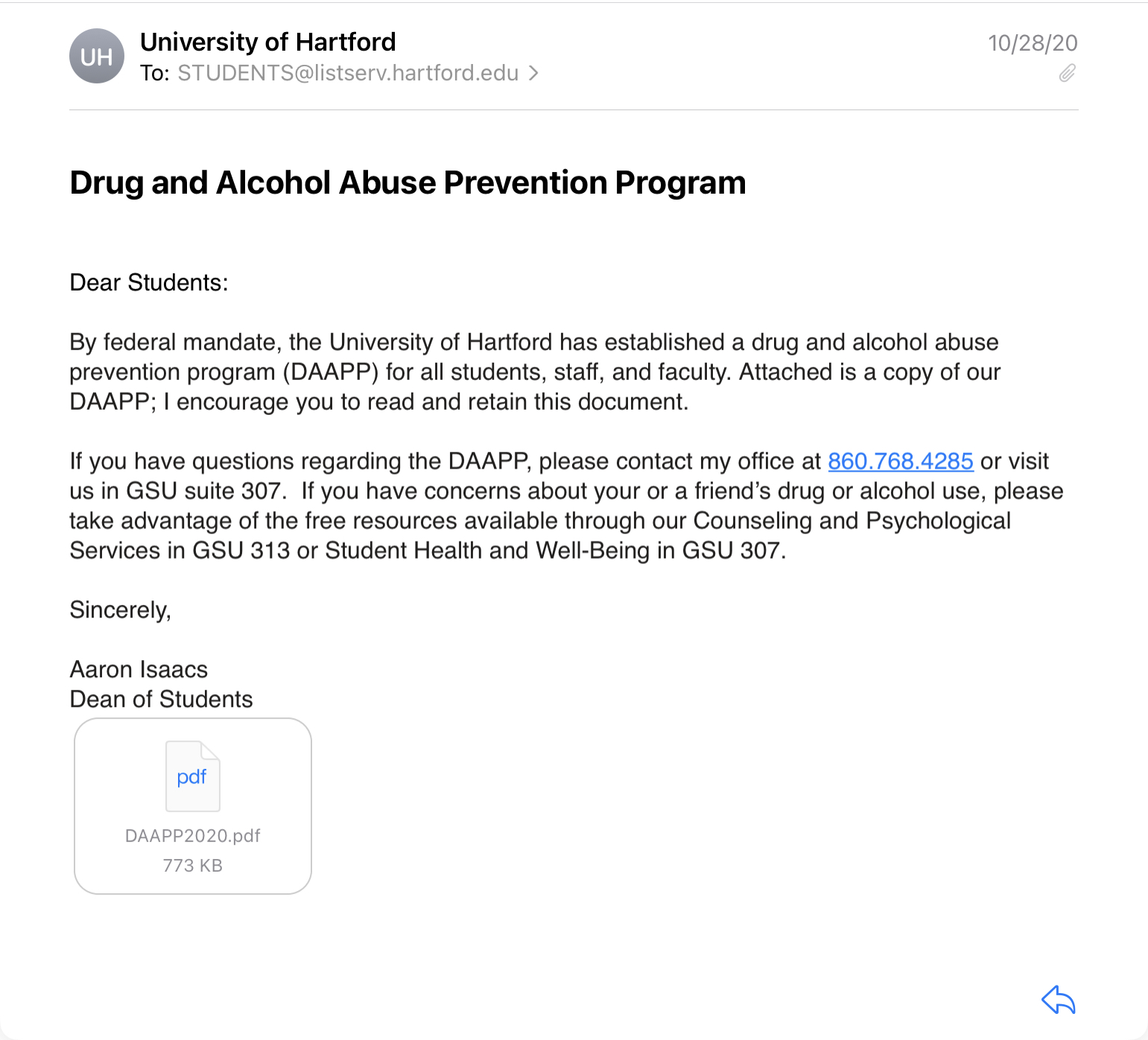 The DAPP was created as part of the 1989 Drug-free-schools and Communities act, which mandated the establishment of drug-prevention programs at schools across the nation. It's role is to lay out all drug and alcohol policies at the university, and outline the disciplinary measures taken in the event of an infraction. The program applies to the entire university community including students and faculty. Stender cited E-Checkups as an example of a potential disciplinary measure.
The aforementioned E-Checkups call for at-risk individuals meet with student counselors to discuss their progress towards sobriety. These meetings used to be in-person, but as a result of COVID-19, they have been shifted online. In a somewhat strange twist, the pandemic has actually made on-campus drug prevention easier in an unexpected way. According to Stender, drug and alcohol incidents on have been much lower than usual this semester. He believes that the university's strict guest policy is responsible for this.
The most major change to the DAAPP this year has been the way in which it's so-called "Good Samaritan Policy" has been altered. The role of the "Good Samaritan Policy" is to pardon individuals that report students that they believe to be in danger, regardless of circumstances. This helps to ensure that safety is prioritized above all. This year, the "Good Samaritan Policy" has been extended to include violations of the COVID-19 guest policy.
If you'd like to get involved in drug and alcohol abuse prevention here on campus, reach out to Dave Stender or Aaron Isaacs to learn about some opportunities that are available. They can be reached via , and respectively.