When students left campus in March of this year, the site for the new academic building consisted of a fenced-off field in the center of campus and little else. Now stands a 60,000 square foot shell of steel and cement that has taken shape over the course of a few months and will eventually house classrooms for UHart's Engineering, Architecture, Nursing and Health programs.
Throughout September and October, the building "came out of the ground," according to Chris Dupuis, Assistant Vice President of Capital Planning and Management. This included completing the concrete foundation and metal framework. Dupuis explained that the current goal, then, is to secure the building's exterior before the onset of winter weather.
"We need to get the building enclosed so that we don't have rain and snow coming in," said Dupuis. "We are starting to put on the exterior sheathing and roofing so that we can work inside during the cold winter months."
However, as the work moves inwards, Dupuis anticipates more complications will manifest for the construction crew, specifically in regard to COVID-19. This is because more people will be working in a smaller a
mount of space.
"As you build a building, you have a bell curve of workforce," said Dupuis. "As you start to enclose the building, you have several trades working at the same time and you start to get a lot of people."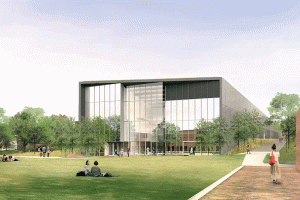 Although, the crew has proven themselves capable of adapting to pandemic precautions throughout the entire construction process, as the building remains on track for its fall 2021 debut.
"It's been a lot of additional planning and coordination efforts by the entire team" Dupuis said. "but we've managed to stay on schedule."
But, before classes can begin in the new building, Dupuis explained that lab equipment must first be transferred from Dana Hall and the United Technologies building, renovations to which are also included in the multimillion-dollar project and are expected to start in the late summer of 2021.