Toro Mexican Street Food is the newest Mexican restaurant in the West Hartford area, and it is located at 22 Raymond Rd., right next to the driveway to Whole Foods. 
Toro is the third of the restaurants owned by Tony Camilleri, and even if its menu is similar to the other eateries, it has been designed for a "quick grab and go service". The colorful interior, the Spanish music and the fun details all work to make Toro a truly Mexican experience. "
We want you to walk through these doors and feel like you're at a Mexican street food vendor," said Nicole Rodrigue, the general manager of the restaurant.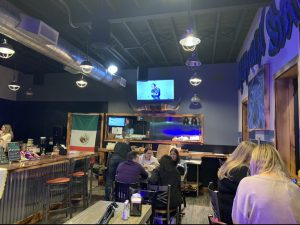 The work indoors is by stretch one of the owners, who owns a tattoo shop in the area, and the mural outside was made by the local artist Ben Keller. 
Besides the decorations, what really makes Toro stand out is the incredible food.
The highlights of the menu may include tacos, burritos and bowls, but Toro  can easily satisfy any palate thanks to its wide variety. Besides the Mexican options, the restaurant in fact serves burgers, salads and fries.
Rodriquez explained that the restaurant tries to go "out of its comfort zone", experimenting with different plates, and combinations. One of the many examples is the "Barrier Ramen", a taco on top of Ramen which turned out to be a restaurant hot sell. 
Everything on the menu is 100% gluten free and made fresh in the morning. Frank, the kitchen manager, gets to the restaurant three hours before everyone else to make tortillas and to prepare all of the meats and vegetables.
The restaurant is open every day for lunch and dinner and next week will start serving breakfast as well. The menu will include a vast selection of breakfast tacos, burritos and breakfast drinks. Once the restaurant gets a liquor license, wine, beer and tequila will be  added to the menu. But despite it's lack of liquor, Toro is still able to provide a lot of fun experiences for its customers. 
The most popular one is the 15 tacos contest, held on Tuesdays. The participants have to eat 15 tacos in 15 minutes for 15$, and whoever succeeds will be put in a raffle for a catered Super Bowl party by Toro.
Nobody has been able to win yet and the record so far is only 10 Tacos. If you want the chance to have a Superbowl party catered by Toro, make sure to participate in the 15 Tacos Contest every Tuesday!
For more information about other fun events, visit the Facebook page Toro Mexican Street Food