Next week marks the end of another successful run of the West Hartford Citizens Police Academy, an annual 8-week course for citizens to learn more about the inner workings of their local law enforcement.
Every Wednesday since September 29th, adult residents have gathered in the city's police department to discover and discuss the procedures, concerns, and challenges that their local officers encounter while out in the field. These sessions cover a topics that vary from emergency response protocol to the newly developed drone program, giving locals more than a glance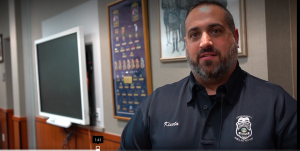 into department operations.
"Being on the other side, you know, as a police officer going to calls, you forget that you are always being watched," said West Hartford Police Officer Pete Kisela. "So this is cool we get to sit and talk to them. They feel comfortable being honest with us and us being honest with them."
Although each meeting of the Citizen's Academy includes presentations, tours of facilities and equipment, as well hands-on demonstrations, both the participants and officers agree that the core focus on open dialogue is what makes the program invaluable. West Hartford is only one of a handful cities with Citizen Police programs in the state, which are still low in occurrence across the country.
However, Kisela claims that more programs seem to be taking off in light of recent events.
"I feel like the classes over the past few years have been…there is definitely just more conversation" according to Officer Kisela. "Within the last two years with everything going on, I think towns and cities are realizing that we need to engage more with the community and that this is a good way to do it."
Although this year's Citizens Academy has drawn to a close, the West Hartford Police Department intends to host their College Police Academy in the Summer of 2022 for any University students interested in the law enforcement field. For more information on these programs and West Hartford Police Department events, be sure to follow @westhartfordpolice on Instagram.