Last month, a new used bookstore, known as The Next Chapter, appeared on the West Hartford storefront scene and is quickly becoming a beloved addition to the local community. This is because the store is the result of an inspiring social initiative to aid the district's Post-Secondary students as they navigate the next chapter of their own lives.
Sitting simply along South Main Street, The Next Chapter resides in the space formerly filled by Omaha Steaks, but has since been acquired by the West Hartford Public Schools system specifically to serve as a vocational training program for special-education high school graduates.
These students, ages 18-22, are apart of what is known as the district's Post-Secondary Program, which is designed to equip them with essential life, social, and employment skills that will help them develop adult independence. The bookstore is just one of several locations that participate in this post-secondary partnership, others of which include CVS Pharmacy, Marshalls, Azure Farms, and several other restaurants.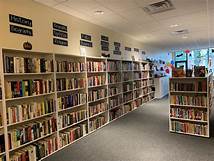 However, both the students and program coordinators agree that there is something special about the bookstore and the experience it provides.
"It's very student-run," according to job coach Cam Tougas. "I feel like when we walk in its 'alright this is the student's store', whereas when we go to other job-sites we are working for someone else."
"The bookstore is my favorite," said Olivia, a student worker. "I love being around the books."
The students commute to the store Monday-Friday from the Post-Secondary building located on the campus of the American School for the Deaf. Upon arriving, the students are largely responsible for conducting daily business duties, which range from cleaning, cataloging books, handling transactions, and interacting with customers, all under the direction of on-site job coaches.
"Oh they love it," Anna Elfenbaum, the West Hartford Public Schools Transition Coordinator, told STN. "there are so many facets to it, students can interact with it in a way that works best for them."
The road to opening began for The Next Chapter this summer, after calls for donations yielded a plentiful crop of books–which was an early sign of West Hartford's impressive community support. Along with the public school administrators and local town officials who hosted October's opening ceremony, the store is a result of many who were dedicated to it's mission from the start.
"With this store it's been really phenomenal what I've seen with the community support," Tougas said. "It's not just the school getting this building or the post-secondary teachers helping create this format, but it's the customers who really come in. I've never heard of a community supporting special education and programs like this."
Customers can visit the store in West Hartford Center on Mondays-Fridays from 10 A.M. to 5 P.M. To find out more about the Post-Secondary Program or The Next Chapter, be sure to visit their website. To donate books, contact the store at: