The coronavirus pandemic has caused Corona beer to suspend production temporarily in Mexico. The owning company of Corona beer, Grupo Modelo, announced on Tuesday in a tweet that its production and marketing of Corona beer will stop for the time being. This announcement comes after the Mexican government's decision to close non-essential businesses. The Mexican government has also suspended non-essential activities until April 30.
Grupo Modelo does have a plan of action to ensure beer supply if the Mexican government chooses to include breweries as an essential business. CEO Bill Newlands of Constellation Brands, the distributor of Grupo Modelo's beers, does not expect any shortages in the near future stating the brand has "ample supply to meet consumer demand".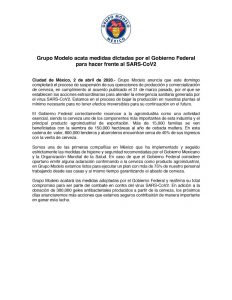 Many expected Corona beer sales to decline due to the common name with the virus. However, it was found that sales of Constellation's beer brands grew 8.9% within the first three months of 2020. Of those sales, Modelo and Corona were the company's best sellers. Additionally, Constellation Brands reported its sales growing 24% within the first three weeks of March as compared to a year ago.