With the sports world basically coming to a halt you might think that there is nothing good to watch on TV right? Well think again. ESPN8: The Ocho aired an 11 hour weird sport tournament this past Saturday. This was the fifth time the faux-network has been aired on live television.
ESPN8 aired weird sports tournaments that included marble racing, cherry pit spitting, professional arm wrestling, and lawnmower racing.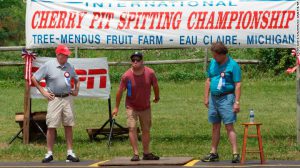 ESPN8: The Ocho was inspired by the movie "Dodgeball: A true Underdog Story," and introduced the idea to air the rarely seen action of peculiar sports.
For those who missed the live television event all games from the airing can be found on ESPN's Youtube channel.