President Biden proclaimed that the end is in sight for Coronavirus in America, as he anticipates upcoming July 4th celebrations to signify a push forward from the past year's pandemic in a live speech given from the White House on Thursday.
Biden's aim to achieve normalcy by the upcoming Independence Day is intentional, claiming that engaging in small holiday gatherings will "not only mark our independence as a nation, but mark our independence from this virus," in his statement.
Biden credited the current statistics of vaccine distribution as his source of optimism, claiming that, at the present rate, a total of nearly 100 million U.S. residents will have received the shot within the next ten days. However, he claims that in order to achieve (government approved) summer backyard BBQ's, American must remain vigilant in preventative practices for the next few months.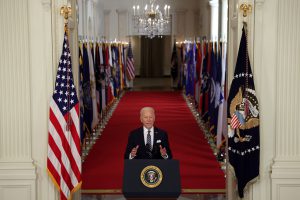 Also stemming from the vaccine success is Biden's expectation that all Americans will be eligible for the vaccine by May 1st. Specifically, Biden claims that his administration will increase the shot's availability by expanding the range of vaccinators, in turn adding dentists, veterinarians, paramedics, and medical trainees as qualified administrators of it. Additionally, Biden also intends to implement a system of federally run mass vaccination centers.
This series of what is to be wide-scale legislation is complemented by the whopping $1.9 trillion pandemic-relief package that Biden signed into law Thursday morning, the contents of which were backed unanimously by House Democrats and no Republican vote.
Consequently, the Reserve has warmed up the presses in preparation for this fresh flood of federal funding, that of which will distribute another slew of $1,400 stimulus checks, provide school and small-business relief, and propel an increase for COVID-19 tests and vaccines.
And while Biden boasts confidence in the bill coined "American Rescue Plan", the glaring disparity between parties in the House vote represents a population that remains dubious in the face of big-government action, a subject which Biden has begun to put forth as pinnacle of unity.
"Put trust and faith in the government to protect its people," the president said. "Government isn't a foreign force in a distant capital. It's us; it's all of us."
The President will be seen pioneering this principle in a "Help is Here" tour through several states over the next week. Traveling with him will be Vice President Harris and their respective spouses in a mission to promote the latest relief package and—more importantly—it's ideological implications.