In February, India was achieving all-time lows for Coronavirus cases, inciting a surge of premature public gatherings despite a passive vaccination rate. Now, a calamitous second wave is taking a deadly toll on the ill-prepared nation.
According to the World Health Organization, India accounted for 38% of the global 5.7 million new cases reported in the past week. The rate has revealed a mass shortage of medical supplies throughout the country, overwhelming both hospitals and crematoriums as the death count surpasses 200,000.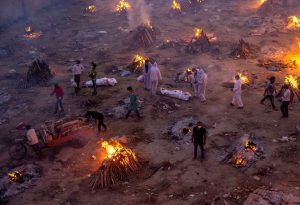 A distinct set of circumstances can be attributed to the spawn of such an uncontrollable outbreak. Specifically, a sudden escalation of social gatherings began at the start of the year despite a passive vaccination rate, as only 10% of the 1.3 billion Indian residents had been vaccinated by February.
The Indian government was especially convinced that the worst was over. Many are criticizing Prime Minister Narendra Modi for encouraging political rallies to occur across the country, one of which assembled 800,000 people. The religious festival of Kumbh Mela was also permitted to resume this year and has drawn 50 million observers to the Ganghes river in the past few weeks.
"We've been failed by the government that did not think to put in place a contingency plan for the second wave, that dismantled the jumbo COVID hospitals that had been created last year in the belief we had beaten the first wave," said Washington Post Correspondent Barkha Dutt. "We've been failed by policymakers that allowed vaccinations to go out of India before our own could be vaccinated."
Modi has since clamored for help, and the world has responded. Starting this week, mass shipments of medical equipment are being sent day by day from the US and the UK, including ventilators, oxygen concentrators, and protective gear. Many other countries have pledged to follow suit, with Russia expected to deliver the first supply of vaccines on May 1st.
According to the White House, The US plans to share excess vaccines once the circumstances allow. Currently, the millions of unused doses of the AstraZeneca vaccine in the US are being considered for dispatch, but have yet to be approved for use. Even then, the recent ban preventing the US export of raw vaccine materials must be repealed in order for that to happen, an action that the White House has claimed to do.