Last weekend saw many declaring candidate Joe Biden as the presidential victor after he pushed past the 270 electoral votes needed to win the election on Saturday. However, the fate of the presidency still stands in limbo as President Trump proves that he won't go down without a fight.
Yet to concede the race, President Trump remains resolute in his mission to expose potential voter fraud, calling for ballot recounts and advancing legal challenges towards states that emerged marginally in Biden's favor. These include Arizona, Georgia, Michigan, Nevada, Pennsylvania, and Wisconsin.
Because of this, many sources now recognize these states as pending results and have therefore held off on declaring a

winner until all litigations are resolved. And although Trump's actions are disrupting the formal transition of power that typically occurs during this time, the majority of the GOP base supports his endeavors, including the Senate Majority Leader Mitch McConnell who validated Trump's concerns surrounding the results in battleground states.
"We have a system in place to consider concerns," McConnell stated earlier this week. "President Trump is
100% within his rights to look into allegations of irregularities and weigh his legal options."
Meanwhile, Biden assuredly anticipates an Inauguration in January, as he announced the assembly of a Biden-Harris COVID-19 transmission team and his plans regarding healthcare and foreign relations throughout the week. "The people of this nation have spoken," Biden said in his Saturday night speech. "They've delivered us a clear victory."
However, as long as Trump refuses to roll over, any further action from the Biden Administration remains stymied. This is because until Trump admits defeat, the General Services Administrator—a Trump appointee–cannot certify Biden as the successful candidate, tying up the flood of federal funding that fuels the transition and preventing him from filling nearly 4,000 government positions.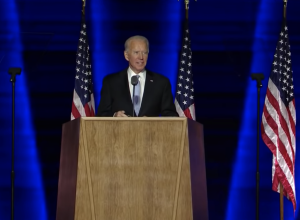 Furthermore, Biden has yet to be briefed on any classified information regarding national security, something that he was permitted as a candidate, but has been denied now that he is neither this nor the officially recognized president-elect. This has raised concern amongst several Senate Republicans, even as they support Trump in his voter fraud investigations.
"At this point at least, I think he should absolutely be getting intelligence briefings," Missouri Sen. Josh Hanley said of Biden. "I think he should continue to get what he's been getting and then let's get on with the resolutions on some of these disputes."
Additionally, Sen. James Lankford echoed the need for Biden to be stay updated on key foreign issues. "Both sides need to have access to the information because we don't know who the president is going to be," Lankford told the Associated Press. "So, allow that part of this process to still continue just for the sake of national security."
On the other hand, Biden seems unbothered at not being briefed. "Look, access to classified information is useful. But I'm not in a position to make any decisions on those issues anyway," Biden said on Tuesday. "As I said, one president at a time. He will be president until Jan. 20. It would be nice to have it, but it's not critical."
Only time will tell whether President Trump will budge and to what extent. If no one is named come January 20th, House Speaker Nancy Pelosi is the designated fill-in. Until then, Presidential power hangs in the balance.