At a time when many see the future as teeming with uncertainty, the Hartford Race Team has decided to approach it with full speed ahead.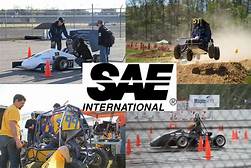 A club comprised of devoted UHart students, the Hartford Formula Society of Automotive Engineering (FSAE) Race Team spends the school year designing and assembling a racecar with which they contend against 100 other universities worldwide in an annual competition. However, this year's competition– known as the SAE International's Collegiate Design Series–was called-off in March because of the COVID-19 pandemic. This forced the Hartford Racers to leave behind months of dutiful preparation.
"We had our car about 70% complete when COVID hit last time," said Race Team Captain Jake Bussell in an interview. "We were on track to get this car running in preparation for that competition and it was a real bummer when we all got sent home."
Having returned to campus, the race team members are back to finish what they started, but new regulations test their ability to adapt. "The hardest part is the actual meeting and gathering and social-distancing" Bussell said. "You can't build a car over zoom."
However, besides inconvenient restrictions, the Race Team has been presented with a valuable opportunity for refinement. This is because they were able to resume work on last year's vehicle as their submission into next year's competition. Therefore, coming into this year with the car's frame and the wiring mostly finished, the team engineers had the chance to fine tune these and other foundational elements of the car that the usual time frame wouldn't permit.
With less time needed to actually build the car, the team has geared their focus towards the upcoming test period. "In testing…unforeseen things happen that you didn't expect, so we've set our deadlines early" Bussell claimed. "We'll have a running car soon and then test the living crap out of it, so nothing happens at competition."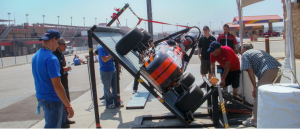 Additionally, the UHart Race Team relies on this testing process to develop specific elements that they deem essential for competing against much larger schools with heftier budgets. "At least performance wise, we're not going to reach the teams that have 2 million-dollar budgets," Bussell said. "We need to reliably drive against teams that are at our level…reliability and resourcefulness is how we have to look at it."
These qualities have reaped success for UHart in past competitions, springing them from a 72nd overall placement to 31st within a 3-year period. But, especially this year, the race team is far from satisfied. "Last semester, we were really close and it left a sour taste in our mouths," Bussell said. "We're back with redemption on our minds, so hopefully it all works out and we can prove ourselves in Michigan."
For more information on the University of Hartford Formula SAE Team, contact them at .